---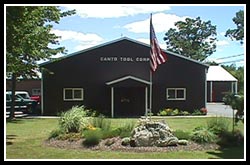 Canto Tool Corporation was founded in 1951, And for many years has provided the utmost in service to its customers. Canto is continually expanding, both in service and in production areas. Canto enlarged its production are in 1979 and again in 1998 by adding on to its building's size. This enlarged production area as well as its ongoing modernization program assures the promise of fair pricing, excellent service and on-time delivery.

Early in 1977 Canto Tool Corporation was purchased by personnel from within the Canto organization. Together with nearly a century of experience between them, they work to continually provide a guarantee of quality work and exceptional service to all Canto customers.

In addition to designing and manufacturing a wide variety of components, fixtures, tools, dies, molds and related hardware, Canto also provides custom machining services including CNC EDM, CNC Machining Center, Jig boring, Jig Grinding and other precision machine work for a variety of industries.

We at Canto Tool Corporation want to have an opportunity to work with you in fulfilling your special requirements. An ever-expanding production area in addition to 100 years of combined experience prove that we can meet any challenge.

Canto Tool Corporation invites you to visit our shop and see our craftsmen at work and the clean environment they work in. Our Goal is Complete Customer Satisfaction!